Swaragini Serial
Swaragini — Jodein Rishton Ke Sur is an Indian television series. The show is first aired on Colors TV on 2 March 2015. The show is also dubbed in the Arabic language as  ومن الحب ما قتل and Tamil on Raj TV. It has also been remade in Bengali as Kajallata which airs on Colors Bangla.
Helly Shah, Tejaswi Prakash, Varun Kapoor, and Namish Taneja playing the lead roles in serial Swaragini. The show ended on 14 December 2016, completing 469 episodes.
Let's know more about Serial Swaragini –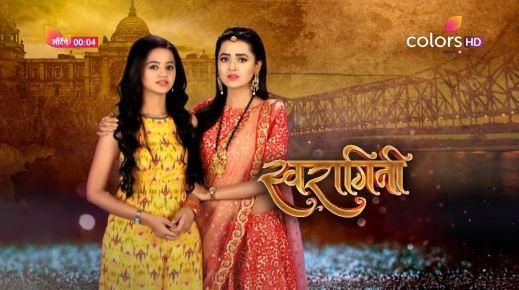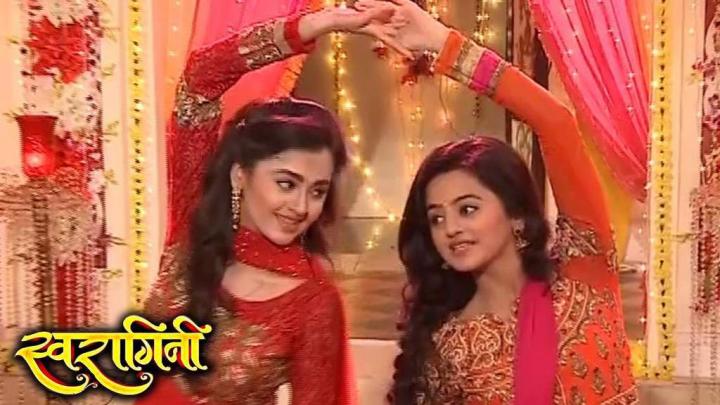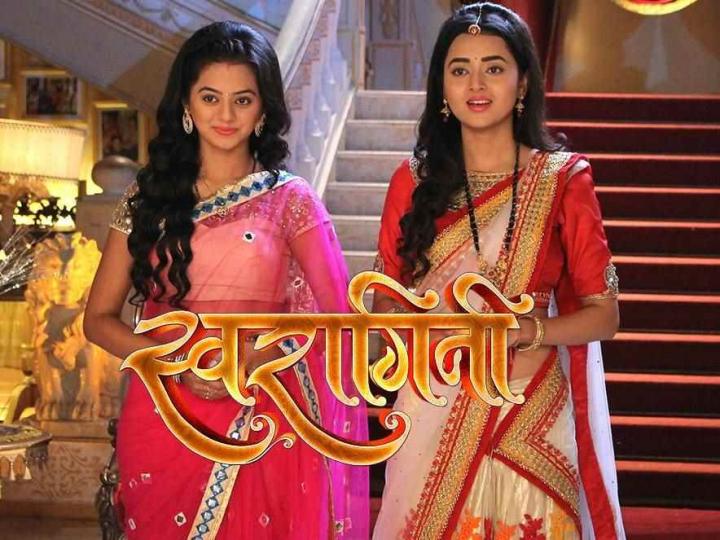 Also check – Colors TV Schedule
Swaragini Serial Wiki, Timings and Other Details
Also known as
Swaragini — Jodein Rishton Ke Sur
Genre
Drama
Romance
Written by
Story
Mahesh Pandey / Akash Deep
Screenplay and dialogues
Gautam H.
Janki V.
Sharad C. Tripathi
Directed by
Ravi Raj
Starring
Helly Shah
Tejaswi Prakash
Varun Kapoor
Namish Taneja
Opening theme
'Dhere naa…'
'Swara…..gini'
Country of origin
India
Original 

language(s)

Hindi
No. of seasons
1
No. of episodes
469[1]
Production
Production location(s)
Kolkata
Mumbai
Patna
Editor(s)
Hemant Kumar
Camera setup
Multi-camera
Running time
22 min approx
Production 

company(s)

Rashmi Sharma Telefilms Limited
Distributor
Viacom 18
Release
Original network
Colors TV, antv
Picture format
576i SDTV
1080i HDTV
Original release
2 March 2015 – 14 December 2016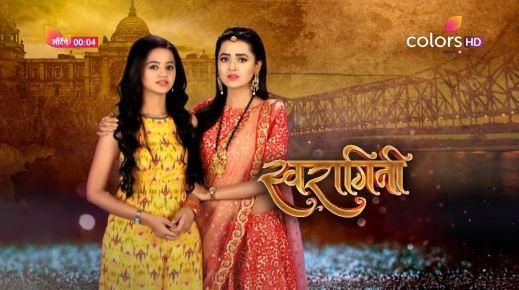 Swaragini Cast
Role: Swara Maheshwari
One of the two female lead of the show, Swara bose now Swara Ggadodia is the half-sister of Ragini and Shekhar and Sharmishtha's daughter without marriage. She is a very smart, modern girl, full of life, speaking her heart out but at the same time a very caring and loving girl. Her life's motto is FAMILY IS THE MOST IMPORTANT and can do anything for her family. She always stands up for what's right. She is hated by Shekhar's mother since she is of a different religion. She plays the guitar sometimes.
Tejasswi Prakash
Role: Ragini Maheshwari
The other female lead of the show and half sister of Swara. She is Shekhar's daughter. A very shy girl, quiet with preserved nature but filled with values and is the most caring character. She is much opposite to Swara in many things. She is very obedient towards her Dadi ma and respects her a lot but when it comes to choosing right, she do stand with the right without opposing her Dadi ma. She was ex-fiancee of Laksh but their relation didn't work out due to some circumstances and also as Laksh felt they are poles apart. She still loves him. She is shown as a lovely singer.
Role: Lakshya Maheshwari
The younger son of Durgaprasad Maheshwari is the male lead. He completely defines a rich spoilt brat. Born in a family with rules and regulations on everything filled up to the neck, he lives two personalities. Following his family's rules being lakshya and outside living as himself in the name of lucky. He hates his home's environment and strictly against it and thinks of his father as a dictator. He is ragini's ex-fiancee. When his father boycotted shekhar's family, he finally gathered the courage to stand against his father and left home only to help uniting swaragini's families. Though after a while he was called back home. He loves swara though swara hates him for hurting her sister and this caused him to reform from a rich-spoilt brat to a responsible son.
Varun Kapoor
Role: Sanskar Maheshwari
Lakshya's elder brother and son of Durgaprasad's younger brother, ram maheshwari. He is the parallel male lead. He have a traumatic past. He loved a girl who was of some other religion. He was discarded from the family by Durgaprasad. His past is not completely known but his love died in his hands and he was assumed dead until he made a return as a mental patient though he is fit and acting all this to take revenge from Durgaprasad and Lakshya as he thinks they are the reason behind his fortune.
Nagesh Salwan
Role: Durgaprasad Maheshwari
Lakshya"s father and head of the marwari community. A hippo crate and strict with the rules and regulations. He is a very dominating and imposing guy which is proved by the environment of his home where no one is allowed to say anything on his decision. He tied Laksh-Ragini relationship but when he got to know Swara is Shekhar's illegal daughter he boycotted Shekhar's family and broke the ties. He didn't allowed sanskar to enter the house for his past deeds but was opposed by his wife Annapurna resulting him in leaving the house for the sake of his ego. Though he returned after a while.
Akanksha Chamola
Role: Parineeta Maheshwari
Alka Kaushal
Role: Parvati Gadodia
Shekhar's mother. Narrow minded in the name of religion. She shared a sisterly bond with Shobha bose but due to Shekhar-Sharmishta's relation, Parvati insulted her lot which turned their bond into hatred. She opposed Shekhar-Sharmishta wedding and did all trick to stop it but failed and in order to keep his son in their house, she has allowed Sharmishta and Swara in though she never leave any chance to insult them.
Sachin Tyagi
Role: Shekhar Gadodia
Father of both Swara and Ragini. He is a calm guy with a serious touch. He loved Sharmishta during his young days but being of different religion Sharmishta was not approved by his family and Sharmishta was insulted by his family in front of everyone. Sharmishta went away and he lacking the courage to oppose his family moved ahead marrying Ragini's mother who died when Ragini was young. Sharmishta came back after a while with swara. He still loved Sharmishta. He was unaware that Swara was his daughter but when Sharmishta told him swara too heard it and with Ragini, she united their parents. His family was boycotted when swara's real identity was revealed.
Tanima Sen
Role: Shobha Bose
Sharmishtha"s mother. She shared a sisterly bond with parvati but due to shekhar-sharmishta"s relation, she insulted her lot which turned their bond into hatred. Unlike Parvati, she is a very real person. She accepted Shekhar-Sharmishta marriage with a full heart and loves Ragini like Swara. She always step in to keep a check on Parvati when she is on her Harsh sayings and evil stuff.
Anuj Sachdeva
Role: Sahil
Role: Sharmishtha Gadodia
She is Swara's mother and step mother to Ragini. A independent lady whose life revolved around her mother and daughter. She was in a relationship with Shekhar in her young days and even got pregnant with Swara but on being opposed by Shekhar's family and with all insults to her family by them, She left. She got married to a guy who too left and went away. She returned with the kid Swara. She still had feelings for Shekhar. When she was revealing to Shekhar of Swara's birth reality Swara overheard and with Ragini, she united their parents. She is still trying hard to find a place in her in-laws heart who still hate her and her daughter.
Shalini Kapoor Sagar
Role: Annapurna Maheshwari
Wife of Durgaprasad and Lakshya"s mother. A very sweet lady and a perfect example of a Indian wife. Unable to protest her husband she always have to suffer a lot and choose btw his sons and her husband. But she finally gathered the courage to get Sanskar back to his house which cause Durgaprasad leaving her.
Abhijit Lahiri
Role: Deendayal Gadodia
Shekhar"s father.
Amar Sharma
Role: Ram Prasad Maheshwari
Sanskar"s father and Durgaprasad"s younger brother.
Tarun Singh
Role: Adarsh Durga Prasad Maheshwari
Elder son of Durgaprasad and also the elsdest son of Maheshwari mansion.
Soni Singh
Role: Urvashi Maasi
She is Ragini"s maasi, who hates Swara and her mother Sharmishta because she feels that they have ruined Ragini"s mother"s life. She plans and plots against Swara at every possible opportunity.
Role: Kavya Malhotra
Kavya/Tanya Malhotra is Lakshya"s ex-girlfriend. Lakshya ditches Ragini in the mandap and marries Kavya to take revenge on Ragini. And Kavya as returned to take her revenge on the Maheshwari family for something that took place during Lakshya and Kavya"s childhood days.
Nikita Sharma
Role: Kavita
Kavita is Sanskaar"s ex-girlfriend who has been in the coma for a long time. When she returns and sees that Sanskaar has moved on and started loving Swara, she backs off. But she is influenced by Urvashi, Ragini"s aunt and plots to separate Swara and Sanskaar.
Source – https://www.india-forums.com
Swaragini Story
The show is one of the most popular shows of Colors TV channel. Swaragini is based on the story of two Half Sister Swara and Ragini. Swara is from a Bengali family where Ragini belongs to a Marwari family. They are living separately with their own families. When they discover that they are sisters, they get their parents married. During the course, both the sisters fall for the same guy, Lakshya. And this turns them, enemies.
Also Check –  Zee TV Kumkum Bhagya
Here is all the detials of the Serial Swaragini. For more updates keep checking our blog. Also share it with your friends.