Salman Khan is one of the top names from Bollywood.  Salman Khan is spotted in an auto-rickshaw near his Panel farmhouse. Ya, you listen right, not in a car. He is spotted in an auto-rickshaw. 
A video of the star went viral in which not only saw the superstar in the auto, but he is driving that auto, and two people are sitting in the back of the auto. The superstar Salman khan spotted a blue t-shirt and a black niker with a cap.
There may be specific reasons, it may be a movie scene, or maybe he wants to try auto also. Maybe there will be any compulsion like he wants to reach fast on his farmhouse and his car has some issue but most possible reasons are it may be a scene, or he wants to try this vehicle.
Recently Salman has had a hectic schedule with two pictures and a big boss weekend ka war. He is busy shooting  Antim and Tiger3 (The movie is the third film in the successful 'Ek Tha Tiger' franchise). The team has to be very secure about leaking movie sections and also be careful about the covid pandemic.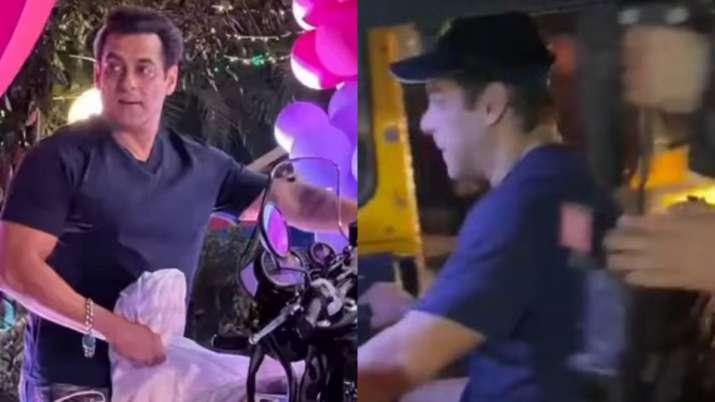 For the shooting of Tiger 3, the best duo Katreena(Seen in the role of Zoya)and Salman did hard work, and they also had to go out of the capital for some critical sections. 
Let's hope the movie shoot will be complete without any complications. Everyone in the team had to keep in mind the covid pandemic and also take precautions and follow guidelines of the government, and get tested regularly to overcome its consequences.