Star Plus Siya Ke Ram Serial Wiki
Siya Ke Ram is an Indian epic TV series which was aired on Star Plus channel. The serial is produced by  Nikhil Sinha under the banner of Triangle Film Company. The show features Ashish Sharma and Madirakshi Mundle playing as Lord Rama and Lady Sita respectively and Karthik Jayaram as Raavan.
Other than India the show is also telecasted abroad in Indonesia, Sri Lanka, Thailand, and the UK. The show is released on Star Plus on 16 November 2015. Currently re-runs on Star Utsav as Ramleela – Divya Gatha Siya Aur Ram Ki and on Vijay Super as Seedhayin Raaman and is also aired on Star Bharat from 5 August 2018.
let's know more about the show –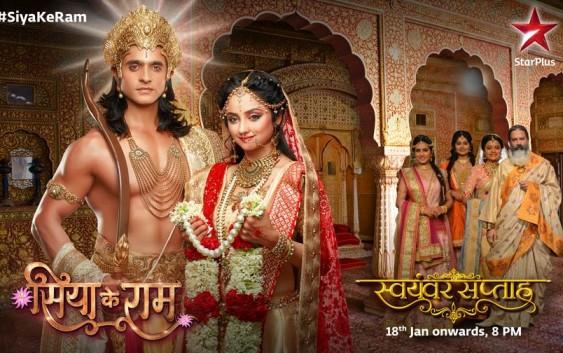 Siya Ke Ram Trailer
The show was first aired on Star Plus on 16 November 2015. It was based on epic Ramayana. The main plot is taken from the book "Ramayana" written by Tulsidas. Here is the trailer of the show –
Siya Ke Ram Wiki
Also known as
'Maryada Purushottam Siya Ke Ram'
Genre
Mythological Television Drama
Created by
Aniruddh Pathak
Based on
Ramayana
Written by
Story
C.L.Saini
Anand Neelakantan
Utkarsh NaithaniDialogues
Subrat Sinha
Screenplay
C.L.Saini
Bhavna Vyas
Directed by
Nikhil Sinha
Dharmesh Shah
Starring
Ashish Sharma 
Madirakshi Mundle
Theme music composer
Sandeep Mukherjee
Opening theme
Siya Ram
Composer(s)
Sunny Bawra
Inder BawraJitesh Panchal
Sushant Pawar
Country of origin
India
Original 

language(s)

Hindi

Awadhi

No. of seasons
1
No. of episodes
304
Production

Producer(s)

Nikhil Sinha
Production location(s)
Ramoji Film City
Running time
20 minutes
Production 

company(s)

Triangle Film Company
Release
Original network
Star Plus
Picture format
576i(SDTV)
1080i(HDTV)
Audio format
Dolby Digital Plus
Original release
16 November 2015 – 4 November 2016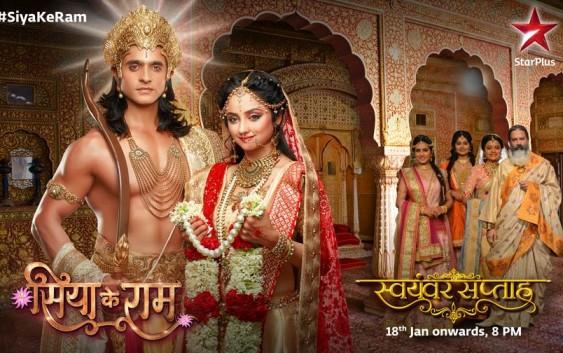 Genre:-
Historical Television Drama
Original airing:-

Starts on  16 November 2015, Monday to Friday at 8 PM on Star Plus.

Serial Makers
Produced by:-
Nikhil Sinha
Director by:-
Nikhil Sinha, Dharmesh Shah
Story/Writer by:-
Anand Neelakantan, Subrat Sinha, Bhavna Vyas
Replace which serial:-
Tu Mera Hero
Location(s):-
Mumbai, India
Language:-
Hindi
No. of seasons
1
Production company(s)
Triangle Film Company
Original channel
Star Plus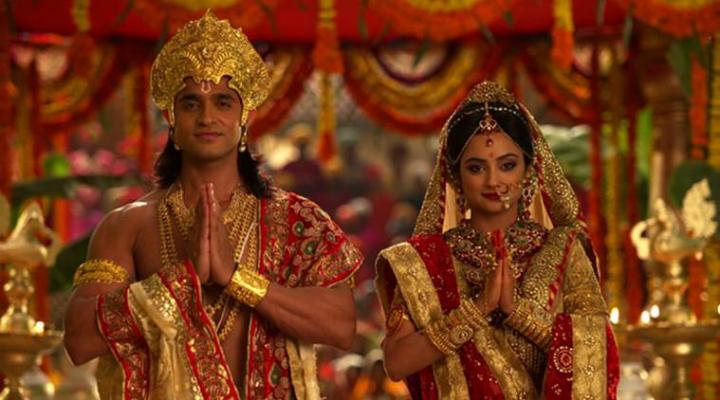 Siya Ke Ram Cast
Ashish Sharma
–:as:–
Ram
Madirakshi Mundle
–:as:–
Sita
Yash Mistry
–:as:–
little Ram
Ananya Agarwal
–:as:–
young Sita
Vedant Sawant
–:as:–
teenage Rama
Samarth Mishra
–:as:–
teenage Lakshmana
Pravisht Mishra
–:as:–
teenage Bharat
Vedant Sawant
–:as:–
teenage Rama
Karan Suchak
–:as:–
Laxman
Sujay Reu
–:as:–
Bharatha
Snigdha Akolkar
–:as:–
Kaushalya
Tanvi Madhyan
–:as:–
Shrutakirti
Hethvi Bhanushali
–:as:–
N/A
Hemant Choudhary
–:as:–
Kushadhwaja
Prithvi Hatte
–:as:–
Mandvi
Bijay Anand
–:as:–
Janak
Grusha Kapoor
–:as:–
Kaikeyi
Bhargavi Chirmule
–:as:–
Sunaina
Dalip Tahil
–:as:–
Dashrath
Sampada Vaze
–:as:–
Sumitra
Yukthi Kapoor
–:as:–
Urmila
Sujay Reu
–:as:–
Bharatha
Karthik Jeyaram
–:as:–
Raavana
Manish Wadhwa
–:as:–
Vishwamitra
Zalak Desai
–:as:–
Shanta
Karthik Jayaram
–:as:–
Raavana
Richa Soni
–:as:–
Gargi
Romanch Mehta
–:as:–
Shathanand
Sandeep Mohan
–:as:–
Vashistha
Vinod Kapoor
–:as:–
Sumantra
Kashmira Shah
–:as:–
Tataka
Sudesh Berry
–:as:–
Parashurama
Ravi Jhankal
–:as:–
Villager
these are all the info about Star Plus Siya Ke Ram Serial Wiki, Cast, Images, Timing. Keep checking our blog for more updates and do not forget to share it with your friends.