Raj Kapoor Wiki
Ranbir Raj Kapoor was a noted Indian film actor, producer, and director of Indian cinema. He was born on 14 December 1924 in Peshawar, India (Present Day Pakhtunkhwa, Pakistan). He was a prominent member of the Kapoor family – that produced several celebrated Bollywood superstars.
He is one of the greatest actors. He was the winner of several accolades including 3 National Film Awards and 11 Filmfare Awards in India. His performance in Awaara was ranked as one of the top ten greatest performances of all time by Time magazine. The Government of India honored him with the Padma Bhushan in 1971.
Let's know more about him –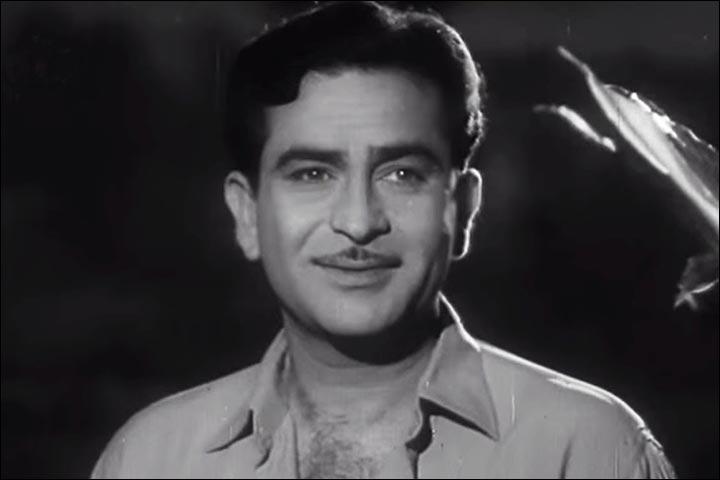 Raj Kapoor Biography, Songs, Movies, Family Tree, Wife, Son & Siblings
Real Name
Ranbir Raj Kapoor
Nickname
Showman, Charlie Chaplin of India
Profession
Actor, Producer and Director
Height
5'7″
Weight
85 Kg
Hair Colour
Grey
Eye Colour
Hazel
Date of Birth
14-Dec-24
Date of Death
2-Jun-88
Birth Place
Peshawar, India
Place of Death
New Delhi, India
Cause of Death
Cardiac Arrest
Nationality
Indian
Zodiac sign/Sun sign
Sagittarius
Hometown
Peshawar, India
School
St. Xavier's Collegiate School, Kolkata Colonel Brown Cambridge School, Dehradun
College
Not Known
Educational Qualification
6th Fail
Debut
Film – Inquilab (1935 as a child actor)
Father
Prithviraj Kapoor (1906-1972)
Mother
Ramsarni Devi Kapoor (1908-1972)
Sister
Urmila Sial Kapoor
Brother
Shammi Kapoor (1931-2011)

Shashi Kapoor (1938-2017)

Nandi Kapoor (1931)

Devi Kapoor (1931)

Marital Status
Married
Wife/Spouse
Krishna Kapoor
Children
Randhir Kapoor, Rishi Kapoor, Rajiv Kapoor, Ritu Nanda, Rima Jain
Net Worth
Not Known
Salary
Not Known
Religion
Hindu
Raj Kapoor was born in a Pathan Hindu family.
He won 11 Filmfare awards and 3 national awards. Raj also got Padma Bhushan Award from Government of India.
His father Prithviraj Kapoor came to Bombay in 1930 and did stage performances to start a career as an actor. He and a group of 80 other persons used to travel different places across India for stage shows.
His super hit movies are Awaara (1951), Anhonee (1952), Aah (1953), Shree 420 (1955), Jagte Raho (1956), Chori Chori (1956), Anari (1959), Jis Desh Men Ganga Behti Hai (1960), Chhalia (1960) and Dil Hi To Hai (1963).
He started his career as a clap boy for a famous Hindi movie director Kidar Sharma.
His brother Devi died in 1931 due to pneumonia and Nandi died in 1931 due to the swallowing of poison (rat pills) strewn in the garden.
Raj Kapoor wanted to become a music director in Initial days of his career.
In 1948, at the age of Twenty-Four, Raj started RK Films and became a film director with the movie Aag.
He is married to Krishna Who is the daughter of Prithviraj Kapoor's maternal uncle.
After marriage, when Nargis with her husband Sunil Datt met Krishna in a party, Nargis said sorry to Krishna for her past relationships with Raj Kapoor.
According to his wife, He used to drink daily.
His son Rishi Kapoor revealed Raj's affairs with different actresses in his autobiography 'Khullam Khulla.'
His first son Randhir is married to actress Babita and the second one Rishi is married to actress Neetu Singh. Famous Bollywood stars Karishma Kapoor and Kareena Kapoor are his granddaughters (daughters of Randhir Kapoor and Babita). The prominent actor Ranbir is his grandson (son of Rishi and Neetu Singh).
His daughter Ritu Nanda's son Nikhil Nanda got married to Shweta who is the daughter of famous actor Amitabh Bachchan and Jaya Bachchan.
He had a very good relationship with Dilip Kumar and even led his baraat (marriage procession) along with his father Prithviraj and famous actor Dev Anand.
Other than India he is also famous in different countries such as  China, Southeast Asia, Middle East, Africa, Turkey, The Soviet Union and many other parts of the world.
A scene of the movie 'Bobby,' in which Rishi Kapoor meets Dimple Kapadia in her house was inspired by the real-life meeting of Raj and actress Nargis.
He worked with music director Shankar-Jaikishan in almost 20 films.
At the Cannes Film Festival in France for the grand prize of 'Palme d'Or' he was chosen a nominee two times for his movies Awaara and Boot Polish.
His first colored film was Sangam (1964).
He became a member of the jury at the fourth Moscow International Film Festival in 1965.
His films Around the World (1966) and Sapnon Ka Saudagar (1968) were box office flops.
'Mera Naam Joker' (1970) was the movie that he directed, produced as well as starred in. But, it was proved a disaster at the box office and put him in the financial crises. Later, it got successful as a classic cult.
In 1971, he produced the movie 'Kal Aaj Aur Kal,' in which he worked himself with his father Prithviraj Kapoor, his son Randhir and actress Babita.
His movie 'Mera Naam Joker' is one of the best iconic films of India and it is the first Hindi movie which is four and a half hours long with two intervals. It was also the debut film of his son Rishi Kapoor.
During the making of Satyam Shivam Sundaram, when Raj Kapoor was searching for a suitable actress; then Zeenat Aman reached his office in the dress of a village girl, and he selected her immediately after getting impressed by her dedication.
In 1987, when he was invited to receive the 'Dadasaheb Phalke Award' at the Sirifort Auditorium, he agreed to go there in spite of his bad health and when his name was announced to get the honour, he felt a strong chest pain, seeing this, R. Venkataraman (former Indian President) walked down the stage for him. His condition got worse and he had to be rushed to the AIIMS (All India Institute of Medical Sciences) immediately.
When he was suffering from bad health, his friend and director Hrishikesh Mukherjee made the movie 'Anand' in his honour.
After a month of struggling for life on an artificial respiratory system, at the age of 63, he passed away due to multiple organ failures and cardiac arrest.
During the time of his bad health, he was making the movie 'Henna,' which was completed by his sons Rishi and Randhir after his death.
On 14 December 2001, Indian Postal Services released a stamp in his honour.
He won the title "Best Director of the MillenniumIn March 2012, his brass statue was placed at Walk of the Stars at Bandra Bandstand, Mumbai. " by Stardust Awards.
His movies Shree 420, Aag, and Jis Desh Men Ganga Behti Hai have patriotic themes and his famous song 'Mera joota hai Japani' gives the feeling of patriotism and is so popular that it is still featured in many films.
He gave a career break to the actresses Dimple Kapadia, Mandakini, Nimmi and also his sons Rishi, Randhir, and Rajiv.
He explained the unrevealed facts about his films in an interview.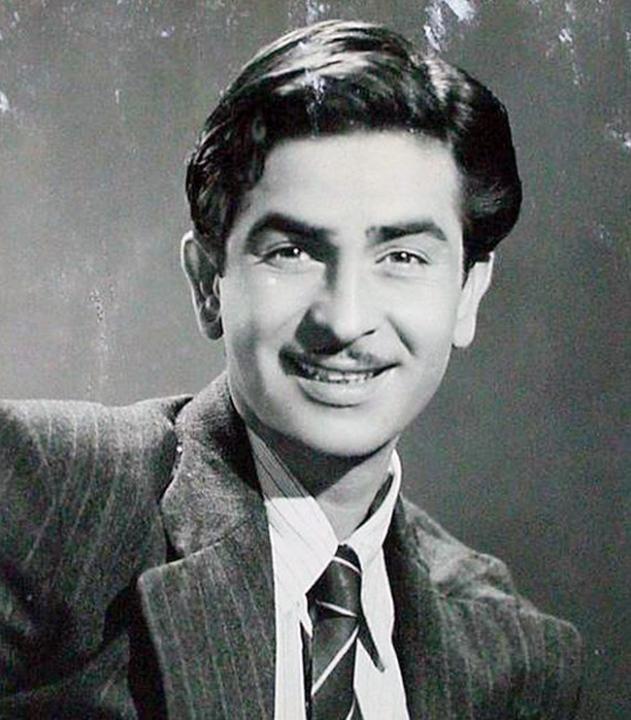 Title
Year
Credited as
Actor
Producer
Other
Role(s)
Inquilab
1935
Yes
Unknown
Hamari Baat
1943
Yes
Unknown
Gauri
1943
Yes
Valmiki
1946
Yes
Jail Yatra
1947
Yes
Dil-Ki-Rani
1947
Yes
Madhav (Madho)
Chittor Vijay
1947
Yes
Neel Kamal
1947
Yes
Madhusudan

Gopinath

1948
Yes
Mohan
Amar Prem
1948
Yes
Aag
1948
Yes
Yes
Director

Kewal Khanna

Sunehre Din
1949
Yes
Premendra
Parivartan
1949
Yes
Andaz
1949
Yes
Rajan
Barsaat
1949
Yes
Yes
Director
Pran
Sargam
1950
Yes
Pyaar
1950
Yes
Jan Pahchan
1950
Yes
Anil
Dastan
1950
Yes
Raj
Bawre Nain
1950
Yes
Chand
Banwra
1950
Yes
Awaara
1951
Yes
Yes
Director

Raj Raghunath

Bewafa
1952
Yes
Raj
Ashiana
1952
Yes
Raju
Anhonee
1952
Yes

Rajkumar Saxena

Amber
1952
Yes
Raj
Paapi
1953
Yes
Raju / Swami Satyananand
Dhoon
1953
Yes
Aah
1953
Yes
Yes

Raj Raibahadur

Boot Polish
1954
Yes
Yes
Man asleep on train
Shree 420
1955
Yes
Yes
Director
Ranbir Raj/Raj Kumar of Pipli
Jagte Raho
1956
Yes
Yes
Peasant
Chori Chori
1956
Yes
Sagar/Sultana Daku
Sharada
1957
Yes
Chiranjeev / Shekhar
Ab Dilli Dur Nahin
1957
Yes
None
Phir Subah Hogi
1958
Yes

Ram Babu

Parvarish
1958
Yes

Raja J. Singh

Main Nashe Mein Hoon
1959
Yes

Ram Das Khanna

Kanhaiya
1959
Yes
Kanhaiya
Do Ustad (1959)
1959
Yes

Raj Kumar(Rajan)/Himself

Char Dil Char Rahen
1959
Yes
Govinda
Anari
1959
Yes

Raj Kumar

Shriman Satyawadi
1960
Yes
Vijay
Jis Desh Men Ganga Behti Hai
1960
Yes
Yes
Raju
Chhalia
1960
Yes
Chhalia
Nazrana
1961
Yes
Rajesh
Aashiq
1962
Yes
Ek Dil Sau Afsane
1963
Yes
Shekhar
Dil Hi To Hai
1963
Yes
Yusuf/Chand/Khan Sahib
Sangam
1964
Yes
Yes
Director, editor

Sundar Khanna

Dulha Dulhan
1964
Yes

Raj Kumar

Teesri Kasam
1966
Yes
Hiraman/Meeta
Diwana
1967
Yes
Pyarelal
Around the World
1967
Yes

Raj Singh

Sapno Ka Saudagar
1968
Yes

Raj Kumar

Mera Naam Joker
1970
Yes
Yes
director, editor
Raju (Joker)
Kal Aaj Aur Kal
1971
Yes
Yes

Ram Kapoor

Bobby
1973
Yes
Director, editor
None
Mera Desh Mera Dharam
1973
Yes
Do Jasoos
1975
Yes
Dharamchand Jasoos
Dharam Karam
1975
Yes
Yes

Ashok Kumar

Khaan Dost
1976
Yes

Ramdin Pandey

Chandi Sona
1977
Yes
Gypsy singer
Satyam Shivam Sundaram
1978
Yes
Director, Narrator, editor
None
Naukri
1978
Yes

Swaraj Singh

Abdullah
1980
Yes
Abdullah
Biwi O Biwi
1981
Yes
None

Gopichand Jasoos

1982
Yes
Gopichand Jasoos
Vakil Babu
1982
Yes

Advocate Mathur

Prem Rog
1982
Yes
Director, editor
None
Kim
1984
Yes
Policeman
Ram Teri Ganga Maili
1985
Yes
Director, editor, writer
None